Hard Wood Floors

Make your hardwood, marble, terrazzo and ceramic tile floors
look new with Sparkleen Cleaning Services. We use professional floor cleaning machines for the job. Let us refinish, strip, scrub, wax, and polish any floor surfaces.
Dry Cleaning
Need some carpet cleaned? With the Sparkleen of Tallahassee Dry Cleaning services, embedded soil is simply loosened chemically for vacuuming. We vacuum up the dirt, and you can walk on your dry-cleaned carpets immediately. Steam cleaning available.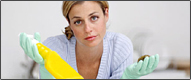 Breaking your back cleaning?
Take the pain out of getting it clean. Give Sparkleen a call today and we can solve your cleaning woes for good.

Tile Floors
Sparkleen Services is a great way to maintain the look of new grout and tile. In many cases, Sparkleen Services is a better alternative to re-grouting. It is cleaner, safer and has added benefits that re-grouting cannot offer.
Linoleum

Do you actually have a linoleum floor? Most sheet flooring these days is vinyl or vinyl blend. This is not linoleum. Vinyl is synthetic. Linoleum is made of natural materials and requires different care completely. Linoleum is sensitive to water and acidic chemicals, you have to wax it more often than vinyl. Call Sparkleen today for any flooring job.
Get a Cleaning Estimate